NC League of Conservation Voters: Universities Working to Advance North Carolina's Clean Tech Industry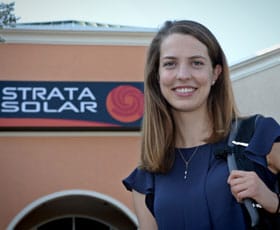 Pushing for environmental change that also makes economic sense
When she was still in high school, Jenna Koester of Burlington, N.C., sat in on a UNC summer school class on environment and society.
"I remember that the discussion was about the environmental disaster that caused Easter Island to become uninhabitable to humans," she said.
Koester was invited to attend by Greg Gangi, associate director for education at the Institute for the Environment, who was hoping to recruit Koester to major in environmental science.
"He talked to me about the opportunities that UNC could provide to someone with my interests. I was sold, and Dr. Gangi has been my adviser ever since," said Koester, who majored in environmental science and mathematics and graduated in May.
Outside the classroom, Koester became involved in the Renewable Energy Special Projects Committee (RESPC). This student committee decides how to disburse a little more than $200,000 collected from students annually for renewable energy and energy efficiency and education projects. Koester joined the committee soon after she entered UNC and soon became its co-chair. While Koester was at UNC, RESPEC funded the Tar Heel Bikes Initiative and several LED lighting projects.
"What really made Ms. Koester stand out are her enthusiasm for learning and an extremely curious and engaging mind. She seeks to apply her knowledge to real world problems through her activism and community service and also draws intellectual sustenance from activism," Gangi said. "RESPC was activism but it was also a great learning venue for Ms. Koester."
Koester also did undergraduate research in wind energy at UNC and at Iowa State University. As a research assistant to Harvey Seim, chairman of UNC's marine sciences department, she helped with his coastal wind study designed to accurately assess the viability of offshore wind energy off the North Carolina coast. Koester prepared raw data from offshore buoys to be used to extrapolate wind speeds aloft.
She spent the following summer in Iowa, working on a project to identify the erosion effects of rain on the gel-coated surfaces of wind turbine blades. She spent her last semester at Carolina working in the UNC Environmental Finance Center on a project focused on restructuring the business plan of a green energy company.
Her studies, research and committee work combined to increase her understanding not only of renewable energy but also the political, financial and technical challenges facing renewable energy.
"Dr. Gangi planted that seed early in the environment and society class, which was that some of the most incredible environmental successes are also economically beneficial," she said. "I knew that whatever I did with my environmental science degree, it had to make sense economically and environmentally."
She's already using the skills she gained at Carolina in her job at the Chapel Hill solar development company, Strata Solar. Koester works on the company's legal team. In two to four years, she plans to continue her environmental studies in graduate school.
"I'm excited to see how the field changes over the next few years," she said.
via Pushing for environmental change that also makes economic sense | The University of North Carolina at Chapel Hill.