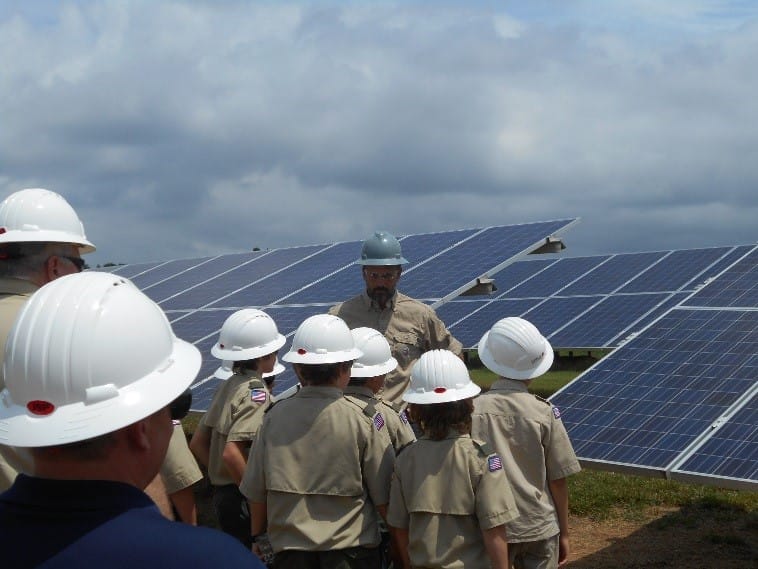 Food Lion, Strata Solar, Local Boy Scouts Earn Sustainability Merit Badges
(Chapel Hill, N.C.) It was not just another Saturday for the Boy Scouts from Troop #317 in Salisbury, N.C., where they gathered with sustainability representatives from Food Lion and Strata Solar to earn credits toward their sustainability merit badge. The day was packed with learning about preventing food waste, recycling programs, carbon reduction and sustainable energy sources.
Sustainability is a core pillar of Food Lion's operation, with a focus on sustainable sourcing of its products, energy reduction across its facilities, zero waste across its operations, hunger-relief efforts in conjunction with its philanthropic efforts and a reduction in greenhouse gas emissions. So when an associate presented the opportunity to teach the Boy Scouts about sustainability, it made sense that they'd include their neighbors at Strata Solar to participate in the discussion of renewable energy.
"We're committed to working to ensure sustainability is a key part of our operations," said Larry Cranford, Energy Manager for Food Lion. "We are excited to be able to share our sustainability journey with the Boy Scouts in our community and provide additional educational opportunities for tomorrow's future leaders."
Food Lion has maintained aggressive sustainability goals and has received the ENERGY STAR Partner of the Year – Sustained Excellence Award for 15 consecutive years. The award goes to a variety of organizations to recognize their contributions to reducing greenhouse gas emissions through superior energy efficiency achievements.
Both with roots in North Carolina, Strata Solar and Food Lion are proven sustainability stewards in the communities they serve, lucky for Troop #317.
"We are witnessing all kinds of companies really beginning to pay attention to renewable energy and sustainability as part of their operations," said Ellis Peterson, East Regional Sales Manager for Strata Solar Commercial & Industrial. "The incentives for rooftop solar are strong, and companies like Food Lion are leading by example."
"We're always looking for ways to get outside of the classroom for some hands-on learning and real-world perspective," said Boy Scouts of America Sapona District Executive, Howard Torrence. "Food Lion and Strata Solar did an amazing job at not only teaching these young boys about the benefits and process of sustainability; they got the boys excited and inspired about something and made it a fun hands on experience."
The troop visited Strata's West Salisbury solar farm and toured Food Lion's distribution center to learn about sustainable food practices, recycling and composting. The final step toward earning the sustainability merit badge is to design an energy-efficient community, so other stops on the tour included a local water treatment facility and a waste management site nearby.
Strata's O&M expert leads the scouts through a lesson in PV technology
A lesson in safety before entering the solar farm
Safety is serious business on a solar farm